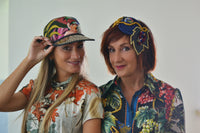 Get crowned by Naomi Christina, choose your unique headwear from our various collection.
Our hats & caps not only provide you with the right style, they also keep you comfortable & protected. Choose from our different lines of hats, beanies, tiara's and much more and stand out, wearing an exclusive piece of headwear.
DISCOVER ALL OUR HEADWEAR
About the designers
Naomi & Chris are 2 Belgian headwear designers. They are the creative duo behind the exclusive label 'Naomi Christina'.
Every piece of their dazzled, unprecedent handmade collection is unique in the world.
In their own mixed and daring style, both designers are introducing a new refreshing view on this accessory.
Related by bloodline, mother & daughter, this remarkable duo is working incisively in a constant strive for perfection.
Their artistic roots and art-foundation is the basis for this exquisite and beautiful collection.